So I'm super excited right now… this is my FIRST ever blog and I probably shouldn't be writing it late at night but there's no time like the present – Wish me Luck!
I can't believe how quickly this year has flown by and that within 5 weeks, James and myself will be business owners for our 6th year! Wow… Yikes… What a massive achievement… And we're still happily married… Haha
This really is a huge achievement and one that we don't take lightly. There is a lot of hard work, sweat and tears that goes into running your own business that nobody really feels the need to share or express with you when you're taking that leap of 'OMG, I'm going to be THE BOSS now' decision. Despite all the stress that comes with it, it's such a rewarding and empowering feeling.
I've learnt a lot about myself and those around me since starting our own business and having our gorgeous two kids. I understand that I'm not going to please everyone; I'm not going to set the correct price on dentures for everyone's budget despite our best efforts; Sometimes courier drivers do let us down; Not all friends and family members are going to understand that our business technically was our first baby and continues to grow and challenge us so it is demanding of plenty of our attention every day; We work our backsides off for our kids to have the best things in life so we're going to be a part of people's lives who make us happy and bring positive energy; and so much more.
We're so appreciative to the Dentists that we work with. Some of them have been with us from the start and no doubt, have seen us grow and develop the business into a completely different direction in which it was when we first started with it. To the newer dentists that have joined us in the last 12 months, you too have seen big changes come through, for example, we've gone Digital in our technology thus opening new avenues in our business and our mouthguard colour selections have increased dramatically (even more options are coming soon to you).
The connections we've made with our private patients and Clubs has truly been wonderful and I'm annoyed I didn't jump onto the Instagram wagon ages ago. BUT, thankfully Survivor Australia 2016 Runner Up Lee Carseldine opened my eyes to the world of this Instagram when he came to see us for his custom mouthguard in January 2017 and ever since then, I've been obsessed with it and loving the new doors its opened for us.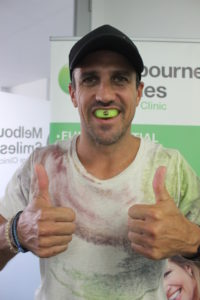 So all in all, I'd like to THANK YOU all for joining us on our journey and we've got so many exciting things happening in the next few months and beyond so here's a little insight:
• We'll be exhibiting at the Fitness Show in Melbourne (October 13th-15th)
• For our Mouthguard VIP Group, we've got some new goodies coming your way and will be launched at the expo
• More AGIG events we'll be a part of
Thank you again all you wonderful peeps and if there's a topic you want to know more about, give me a PM or DM on social media or simply email us at info@MelbourneSmilesDentureClinic.com.au
Onwards and Upwards
XX
Sheli Tsun